YOUR LOCAL IN HATCHING GREEN
Peach is a collection of really great pubs, mainly in market towns in the heart of England. The White Horse is a delightful old pub in Hatching Green, lovely country setting, surrounded by a large leafy garden & terrace. As a quality gastropub, we serve great ingredients and fresh, honest food in relaxed, welcoming surroundings, always with a kind word and a sense of fun. Today we have twenty one pubs in lovely towns and villages, and an undimmed devotion to Making life Peachy. We have always been passionate about giving back and as we've developed and grown over the years, our ability and motivation to make the world a little better, a little peachier, has grown with us. The Bigger Peach shows our efforts to improve communities, equality in the workplace, and the future sustainability of our world. Our achievements were recognised in 2022, when we won Best Sustainable Pub Company at the Publican Awards, and we're also three star accredited by the Sustainable Restaurant Association. 
Soak up the sun, atmosphere and beautiful views whilst enjoying a bite to eat, a cocktail, or a glass of award-winning wine from our drinks list. We serve food all day and children are welcome to enjoy smaller portions of any of our dishes. We take huge pride in serving the best ingredients we can find, from ethical producers, freshly prepared by our chefs. We're dog friendly in our bar and outdoor areas, bring your furry friend and stop by soon. On our bar you'll find a great range of spirits, beers and softs, so whether you pop in for a drink, a business lunch or a special dinner, we promise you a friendly welcome. Find us here.
We look forward to seeing you soon!
Bronte & The White Horse team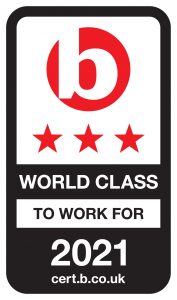 ---
Bronte Bell-Ward, General Manager
Bronte originally joined Peach as a bartender on a gap year from Australia in 2015. The rest, as they say, is history.
Finding a love for hospitality and Peach, the feeling is mutual, Bronte has spread her positivity and cheer around many of our pubs. Progressing from bartender to Master Peach to Assistant Manager at The Fishes to then moving to The Bear and Ragged Staff as an Assistant Manager before moving to Harpenden and becoming Deputy at The White Horse soon after. We're now proud to say she is General Manager at The White Horse.
Bronte's career in the industry started out in her local cafe at the age of 12. She always loved the buzz but never planned to make it long term, with her sights set on being human rights lawyer or adviser to the UN. We're so glad she took that gap year! 
With a great love for travel, Bronte spends her days off exploring new cities across the UK and Europe, having visited 42 countries, so far! Quite the foodie, she loves a Sunday roast or a classic French dish. Bronte also has the WSET Level 2 qualification, putting her knowledge to test, you'll usually find her with a glass of champagne in hand (with a packet of Percy Pigs…quite the pairing). Pop in and raise a glass with Bronte soon!
---
Rob Button, Head Chef
Originally from Sheffield, Rob entered the chef world when he was 15 for work experience. Spending 2 weeks in a serious kitchen, experiencing the thrill, from the prep to service, the banter, to the discipline, he knew it was the job for him.
His family are quite foodie, with a master pastry chef for a wife, which means Rob continues to nurture his passion even away from work. Rob even met his wife at work, one of his career highlights.
Before joining Peach, Rob hadn't heard much about us, imagine that! But over the years since he's become really invested in the ethics and values of the company. Working his way up from CDP to Head Chef Rob credits not only his hard work but the passion and belief of the Peach directors.
On his days off you'll find Rob either checking out the latest films at his local cinema or baking at home with his master pastry chef! Pop and try one of Rob's famous dishes soon!
---
Bevy Berenger, POD Director 
Reared in Australia, Bevy continues to be patriotic despite being on this side of the pond for the last 24 years and we quickly learned about his love for family the importance of his friendships and his healthy obsession with all things sporty and outdoor life.
Leaving Australia after several years as a bass player (complete with long hair) he decided to put music on hold and travel the world, falling into Hospitality in the early 90's in a cocktail bar in Manchester to supplement the plan. He was instantly captivated.
Following a couple of years of rock and roll catering style, he decided to get serious and studied hospitality at Surrey Uni where he met the love of his life. During a hugely successful career, many of the industry heavyweights such as M&B (All Bar One & PCDG) and Whitbread (hub by Premier Inn) have been lucky enough to recruit his expertise and exciting new concepts always sparked his interest. But we were pleased to find out that he'd always kept an eye on Peach and our independent feel, individuality and pace of growth won him over in the end.
Bevy brings that calm Aussie charm you can't help but relax into and he's made a huge impact on his pubs and the Teams he looks after, which after all, is what we're all about. Join him for a chat about surf, sun, sea and great pubs such as Brookmans, The White Horse, The Swan, Black Horse and The Embankment.