What Sundays are for…
Nothing says Sunday like a traditional roast dinner. Our version of a Sunday roast is our Sunday Best menu. Think, top-quality meat from Aubrey Allen, butcher's to HM the Queen, crisp and golden roast potatoes, a generous well-risen Yorkshire pud, tureens of veg, horseradish, mustard and mint sauce ready on the table – jugs of hot gravy. We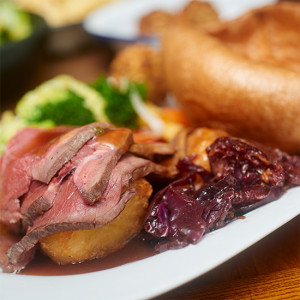 always have a great veggie option too!
You can eat your fill – but be warned, we will come round to tempt you with extra roasties and Yorkies. To finish, fruit crumble, served at the table from a big dish, bubbling at the rim, with your own jug of custard. This is why we think our roasts top the lot; our guests seem to think so too:
"Been to the White Horse many times, definitely the best Sunday roast I have ever had. The ambience of the pub is chilled, service efficient and food always faultless." 
"Enjoyed an excellent Sunday lunch here. Party all chose different roasts but they were all very good. Service, even though it was very busy, was first class (big shout out to Lily). Price seemed reasonable for the quality and location."
"The roast here is amazing – the options are great and it's nice to have a vegetarian roast that isn't just nut roast or a mushroom!"
"This is one of my favourite venues for Sunday lunch. Lovely roast dinners. Excellent choice of beers/ drinks etc." 
"The food, especially the Sunday roasts are always excellent. I would highly recommend a visit, whether for a meal or popping in for a drink or coffee you will not be disappointed."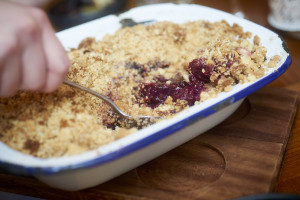 "Decided to give this a go for Sunday lunch a few weeks ago and very glad I did! Sat in the restaurant, which was very busy and atmospheric. Very attentive and friendly waitress. Full menu choice even on Sundays! I had the tuna while my partner went for the roast, both were lovely but I think the tuna in particular was very, very good. Good wine, we enjoyed our second bottle in the bar area with cushy seating. Lovely way to spend an afternoon. Will be back!"
Season to taste with your choice of family and friends – and when it's finally time to go, all you have to do is wave to your waitress and leave us with the washing-up.
Convinced? We look forward to seeing you on Sunday!